Glossy Jesus lanceert single 'Spent' als voorbode van nieuw album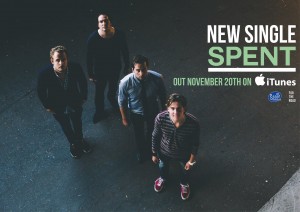 Het Leidse Glossy Jesus brengt op 20 november de single 'Spent' uit. Het is de eerste officiële release van het nieuwe album 'The Hunt'.
Voorafgaand aan de release van 'Spent' heeft de band de afgelopen weken de zes delen van de concertfilm 'Live Hunting' uitgebracht. Glossy Jesus maakte de concertfilm samen met filmersduo Cinemaffia. De concertfilm ging in première tijdens het Leiden International Film Festival. De vorige video van Glossy Jesus, 'The Heat And The Cold War', won twee awards in de VS en werd geselecteerd voor filmfestivals in onder meer Parijs en Toronto.
De nieuwe single 'Spent' is een prima visitekaartje voor de spannende en intense sound van 'The Hunt'. Het nieuwe album komt begin volgend jaar uit.