Veelzijdige Alice Avery presenteert 'Kicking The Habit' EP op 20 mei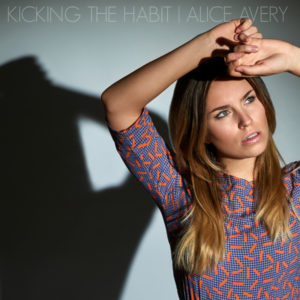 Alice Avery maakt haar dromen waar wanneer zij in 2012 naar New York verhuist om zich geheel op haar carrière als zangeres en actrice te richten. Ze studeert aan de American Musical and Dramatic Academy en speelt in verschillende producties in NYC en Las Vegas. Daarnaast pakt ze de kans om samen met top producer Will Hensley te werken aan haar nieuwe EP 'Kicking The Habit'.
Alice is niet alleen een getalenteerde actrice en zangeres. De zeven songs op'Kicking The Habit' laten horen dat de Belgische ook een uistekende songwriter is. Alice: "Ik hou er van om verhalen te vertellen waarin mensen zichzelf kunnen herkennen. Ik wil echte liedjes schrijven met een verhaal dat je raakt. Gelukkig stond ik tijdens het schrijfproces niet onder druk om grote commerciële hits te schrijven. Ik kon dicht bij mijzelf blijven en heb de liedjes recht uit mijn hart geschreven."
Alice heeft zich laten inspireren door thema's als de hedendaagse liefde, New York City, hartzeer, vriendschap en zelfontplooiing. De Grammy winnende producer Will Hensley (o.a. Regina Spektor, Colbie Caillat, Natalie Imbruglia, John Mayer) is er in geslaagd om de authentieke pop sound van Alice vast te leggen.
'Kicking The Habit' biedt voor ieder wat wils. Muziek om op te dansen, liedjes om bij weg te dromen en liedjes die je laten meehuilen. De EP komt in mei 2016 in de Benelux uit. De eerste single is de intrigerende track 'Expired Love'.
In 2012 werd Alice in België genomineerd als 'Radio 2 Artiest van het Jaar'.  Ondertussen woont de zangeres al vier jaar in de Big Apple. De veelzijdige Alice speelde de hoofdrol in het theaterstuk "Virtuous Mongrels", dat onder andere te zien was tijdens het Fringe Festival in NYC. Ook speelde ze Rapunzel in de door New York Times geprezen productie "Rapunzarella White".