Hongaarse live electronica op Amsterdam Dance Event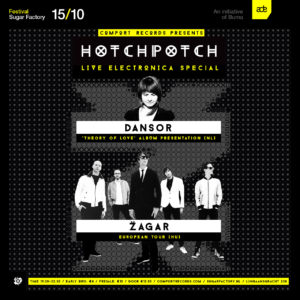 Dansor, Zagar & Ayden Vice tijdens deComport x Hotchpotch presents ADE live electronica special op 15 oktober in Sugar Factory
Zagar is een vijfkoppige psychedelische electronica band uit Boedapest, die momenteel over de hele wereld interesse wekt met hun vooruitstrevende sound. Zagar creëert een frisse en unieke sound op basis van wave rock, elektronica en psychedelische soundscapes. Toetsenist Balazs Zsager en scratcher DJ Bootsie werkten samen mee aan Yonderboi's succesalbum 'Shallow and Profound' en maakten ook onderdeel uit van het Yonderboi Quintet. Zagar is uitgegroeid tot een van de belangrijkste bands van de snel groeiende Oost-Europese electronica scene. Ze werden genomineerd voor verschillede MTV European Music Awards en hun laatste album 'Light Leaks' werd internationaal lovend ontvangen en vergeleken met Daft Punk's hitsuccess 'Random Access Memories'. De muziek van Zagar is onder andere geremixed door Terry Lee Brown, Jr. en Moonbotica.
Album teaser 'Light Leaks' op Soundcloud.
Bekijk de epische video voor de single 'Space Medusa'.
Zagar op Facebook: www.facebook.com/zagarmusic
Dansor presenteert op 15 oktober in Sugar Factory haar nieuwe album 'Theory Of Love'. Dansor is een veelzijdige DJ, producer, live act, visueel designer en het brein achter Comport Records. Geboren en getogen in Budapest (Hongarije), woont ze tegenwoordig in Nederland. Haar stijl kan omschreven worden als een spannende mix tussen cosmic house, neo funk/jazz en indietronica. Haar onlangs verschenen single 'Theory Of Love' incl. Animal Picnic en Jiggler remixes werd internationaal zeer goed ontvangen. De tweede single van het nieuwe album getiteld 'Women Are From Venus' komt vlak voor ADE uit met remixes van Thomas Gandey AKA Cagedbaby (Get Physical, OFF Recordings, Moda Black) en Zoe Xenia (Suara, Comport). Dansor zal tijdens deze avond live begeleid worden door Wouter de Buck op drums en Marta Golka op bass.
De nieuwe single 'Theory Of Love is te beluisteren via Soundcloud.
Dansor op Facebook: www.facebook.com/dansormusic
Comport x Hotchpotch presents ADE live electronica special 
Datum: donderdag 15 oktober 2015
Podium: Sugar Factory, Amsterdam
Aanvang: 19.30
Tickets: www.sugarfactory.nl/event/ade-comport-records-hotchpotch-present-dansor-zagar/tickets/339/
Facebook: www.facebook.com/events/1111413975559493/
ADE: www.amsterdam-dance-event.nl/program/2015/dansor-zagar/4889273/
Voorafgaand aan het Amsterdam Dance Event is Zagar ook te zien in Brussel op 14 oktober bij VK Concerts.