Nieuw album en drie DCMA Awards nominaties voor Mark Blomsteel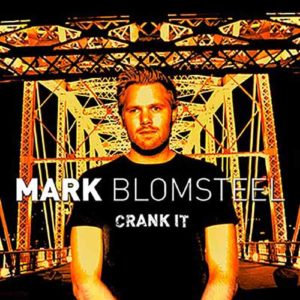 Je droom volgen, je vestigen in Amerika, werken met de beste muzikanten en de voormalig manager van The Beach Boys je mentor kunnen noemen… maak kennis met de ambitieuze Rotterdammer Mark Blomsteel.
Zanger Mark woont en werkt in Nashville TN en nam daar samen met een groep top muzikanten de twaalf songs voor zijn nieuwe album 'Crank It' op in de fameuze Treasure Isle Studio's van Fred Vail. De beroemde voormalig Beach Boys manager en producer werkt sinds 2010 samen met Mark en herkent in hem een zeldzaam soort "international star quality" en fungeert daarom als Mark's mentor.
'Crank It' is het langverwachte tweede album van Mark Blomsteel dat op 26 september 2014 in Nederland via Coast To Coast uit komt. Op de twaalf tracks van 'Crank It' wordt Mark onder andere bijgestaan door vaste bandleider Chris Leuzinger (Garth Brooks), bassist Jimmie Lee Sloas (Keith Urban), drummer Eddie Bayers (Grand Ole Opry), keyboard player Tony Harrell (Kenny Rogers, Ilse DeLange) en B James Lowry (Martina McBride, Tim McGraw) op de akoestische gitaar.
De eerste single van 'Crank It' is de fijne track 'Someone Somewhere Tonight' die afgelopen zomer op menig radio station gedraaid werd. De nieuwe single 'Different Just The Same' gooit momenteel hoge ogen. De single is geschreven door songwriting trio Shane Decker, Bobby Pinson en Don Pfrimmer.
De Dutch Country Music Association (DCMA) heeft Mark in drie categorieën genomineerd: Zanger Van Het Jaar, Meest Belovende Act en Song Van Het Jaar. De DCMA Awards worden op 8 november uitgereikt.