The Covenant presenteert 'The story of Bloody S. Cash'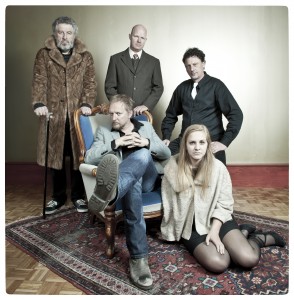 De Amsterdamse band The Covenant maakt "stadion rock voor kleine zalen" en doet dat inmiddels al 25 jaar niet onverdienstelijk. Podia in binnen en buitenland werden beklommen en hun albums werden succesvol ontvangen. The Covenant presenteert in november hun zevende album 'The Story Of Bloody S. Cash'. Een rock opera waarop de labels crime, drama, musical, en dark comedy allemaal van toepassing zijn. Dit alles met een knipoog naar Frank Zappa's 'Joe's Garage'.
Het verhaal gaat over een manische singer-songwriter die zichzelf Bloody Cash noemt. Met een 'briljant' plan ("a music career in crime") weet hij van zijn obsessie zijn werk te maken. Zijn muzikale talent is beperkt, maar met behulp van goed leenwerk bij zijn favoriete nummers, sounds en artiesten komt hij een heel eind. Het duistere karakter en de daarbij behorende verwarde toestand van Bloody Cash zorgen al vroeg in het verhaal voor een onontkoombare dramatische wending.
De vijftien nummers op 'The Story Of Bloody S. Cash' vormen samen één verhaal. Met verwijzingen naar bekende nummers en artiesten met titels als: Dead Moon Rising, Enjoy The Sirens, Now Nor Ever, Doghouse Rock, Oh Crappy Days, The Robb & Roll Circus en Bloody Cash. Alice in Chains, Elvis Presley, The Cult, Roy Orbison, Nick Cave, Masters of Reality, Creedence Clearwater Revival, Depeche Mode, Jimi Hendrix, Frank Zappa, The Rolling Stones, The Stray Cats, Status Quo, Van Halen, Red Hot Chili Peppers enThe Black Keys… je vind hun invloeden terug op dit album, in nummer, tekst of sound.
'The Story Of Bloody S. Cash' bestaat uit de eerste 2 delen van een trilogie rondom het leven van Bloody Cash. Het eerste deel wordt visueel ondersteund op Youtube: http://youtu.be/RJmtVxVECdE. Hoe het uiteindelijk met Bloody zal aflopen? Stay tuned voor deel 3!
Op 9 november trapt The Covenant hun 'Escape From Mental Care' tour af in de Amsterdamse Winston. De tour houdt de band tot midden 2014 op pad. Check voor alle data: www.thecovenant.nl