Prince protégées KING live in People's Place op 18 januari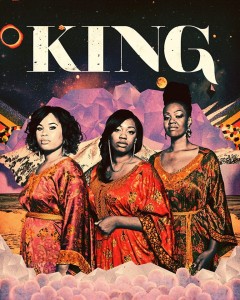 Toen tweelingzussen Paris en Amber Strother samen met muzikale partner in crime Anita Bias in 2011 onder de naam KING hun debuutsingle "The Story" uitbrachten, wisten ze nog niet dat ze aan het begin stonden van een waar muzikaal sprookje. De scrapbook-achtige Youtube video die bij de track hoort, ging in no time viral en viel in de smaak bij grote namen als Phonte, Erykah Badu, Questlove en niemand minder dan Prince.
Prince zag de Youtube video en vroeg de meiden direct om zijn voorprogramma te zijn tijdens zijn shows in The Forum in Los Angeles in 2011. Hij was zo onder de indruk van het muzikale talent van Paris, Amber en Anita dat hij aanbood als mentor van het trio op te treden.
KING maakt organische muziek die zich het beste laat omschrijven als een coole mix waarin jazz en soul naadloos in elkaar over gaan. De band neemt Prince' advies "Don't compromise" ter harte en houdt de songwriting en productie van hun muziek in eigen hand. Onlangs hebben ze hun single 'In The Meantime' uitgebracht en ook zijn zij te horen op de Avicii track 'Lay Me Down' waarop ze samenwerkten met Nile Rodgers en Adam Lambert.
Op 18 januari geeft KING hun eerste optreden in Europa in de Amsterdamse People's Place. Bekijk www.weareking.com voor een voorproefje in beeld en geluid.
Zaterdag 18 januari 2014 – People's Place – Stadhouderskade 5/6, Amsterdam Aanvang: 21.00 uur – Toegang: 12,50