The Lachy Doley Group – 'Conviction'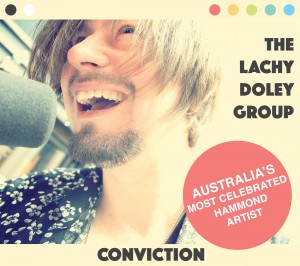 In thuisland Australië wordt Lachy Doley de 'Jimi Hendrix van de Hammond' genoemd, en geprezen voor zijn 'blues soul rock' orgelspel. De afgelopen jaren heeft Lachy over de hele wereld getoured en gewerkt met een scala aan top artiesten zoals Joe Bonamassa, Jimmy Barnes, Powderfinger, Glenn Hughes, Mahalia Barnes, en The Beautiful Girls.
'Conviction' is het derde studio album dat Lachy sinds de oprichting van de band in 2010 heeft uitgebracht. 'Power Hammond Soul', explosieve energie en veel lol zijn de ingrediënten die van 'Conviction' een unieke plaat maken. Een glansrol is weggelegd voor Lachy's Hammond C3 orgel uit 1957 en de unieke Hohner Whammy Clavinet, waar er wereldwijd maar 20 van bestaan.
Recent werkte Lachy samen met Joe Bonnamassa en Mahalia Barnes aan de track 'Ooh Yea'. Ook werd Lachy gevraagd door Glenn Hughes, Steve Vai en Chad Smith om met hen samen te werken aan een nieuwe versie van de Deep Purple track 'Highway Star'. Een tribute aan Deep Purple's legendarische orgelspeler Jon Lord, die onlangs is overleden.
'Conviction' komt op 13 juli 2015 uit in de Benelux. Eind oktober 2015 komt Lachy Doley naar Nederland en Duitsland voor optredens.