We Crave The Quiet presenteert nieuwe EP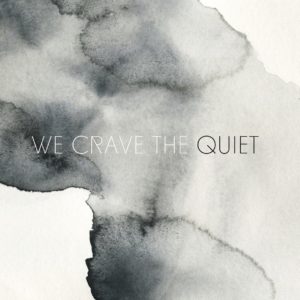 We snakken naar stilte, zonder dat we het zelf doorhebben. Naar rust in ons hoofd, naar ruimte, naar contact en verbintenis. We Crave The Quiet staat voor verstilling, ruimte, rust en verbintenis. Stilstaan bij het moment, loslaten en je laten leiden door de emotie in de muziek.
We Crave The Quiet combineert op de debuut EP alternatieve pop met soundscapes in wat zich het best laat omschrijven als duistere en verstilde landschapspop. De muziek roep beelden op van de uitgestrekte sneeuwvlaktes en de donkere bossen van Scandinavië.
Alle nummers op de EP zijn gebaseerd op improvisaties die in het moment zijn ontstaan. Kernthema's zijn desolaatheid, afzondering, introspectie en duisternis. De muziek is beïnvloed door artiesten als Massive Attack, Björk, Rickie Lee Jones en Little Dragon. Bekijk de We Crave The Quiet  teaser via Vimeo.
We Crave The Quiet is een project van zangeres Jula Aimée, gitarist Jan Schröder (Causes), drummer Jonas David Kröper en VJ Noralie (Eefje de Visser). De EP zal op 13 maart 2015 aan het publiek gepresenteerd worden in VLLA, Amsterdam. De aanvang is 21.00 uur en de toegang is gratis.