Nieuwe single en volledig oeuvre The Covenant nu te beluisteren via Spotify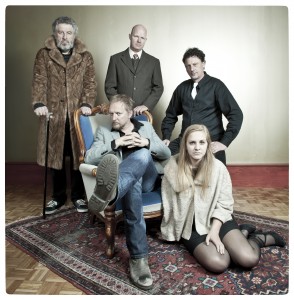 Begin dit jaar krijgt The Covenant bassist Peter Stap een ernstig auto ongeluk, waardoor hij een aantal maanden moet revalideren. Op het moment van Peter's ongeluk is The Covenant al tweeënhalf  jaar aan het touren in het kader van hun 'The Story of Bloody S. Cash' tour. Na meer dan 50 optredens is deze tour abrupt stopgezet en zijn de geboekte optredens afgezegd.
Met een vette knipoog naar Peter en als hommage aan alle vrienden, vriendinnen en ex-bandleden die niet meer in het muziekleven van de bandleden zijn, heeft 'The Covenant' het nummer 'One More Gone' als single uitgebracht. Samen met al het werk dat The Covenant in hun 25 jarige carrière heeft gemaakt, is het nummer vanaf nu te beluisteren via Spotify.
The Covenant zal de tijd van Peter's revalidatieperiode benutten om te werken aan het derde en laatste deel van hun rock opera 'The Story of Bloody S. Cash'. De eerste twee delen van deze trilogie kwamen in 2013 uit.
Musicmaker over 'The Story of Bloody S. Cash Part 1 & 2: "Een ambitieus en verfrissend project dat nieuwsgierig maakt naar het slotstuk".