Rob Moir – Adventure Handbook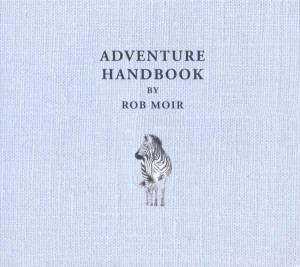 Het nieuwe album 'Adventure Handbook' van de Canadese punk poet Rob Moir blikt terug op de laatste twee jaar die Rob onafgebroken on the road doorbracht. Geïnspireerd door tijdloze artiesten en muzen als Bruce Springsteen, The Replacements en Jeff Tweedy, maakt Rob eerlijke liedjes die hij live met veel plezier brengt. De teksten worden gekenmerkt door spitsvondige wendingen en Rob's oog voor detail. Opener 'New Years Eve' laat horen dat er hoop aan de horizon gloort en 'Run For Your Life' en ' Ports Of Call ' illustreren hoe opwindend het kan zijn om datgene te doen waar je hart sneller van gaat kloppen.
Voormalig frontman van Toronto's Dead Letter Department Rob bracht zijn eerste solo EP 'This Is The Lie' in 2010 uit. In 2013 volgde zijn veelgeprezen album 'Places To Die' waarover Rolling Stone schreef: "Moir isn't conservative; there's something urgent in his songs, that are never too sure of themselves, and whose longing hasn't found a home yet. Moir sings his romantic sighing songs with punk rock folk in his heart and in addition proves a great sense for quiet singer/songwriter moment". Het afgelopen jaar tourde Rob met Neko Case en deelde hij het podium met collega indie folk artiesten als Frightened Rabbit, Frank Turner en The White Buffalo. Ook speelde hij op belangrijke internationale festivals als NXNE. CMW en Big Sound en deed hij meerdere tours door Canada en Amerika. Niet onbelangrijk om te vermelden is dat hij in de zomer van 2014 twee maanden op de fiets door Europa tourde en in zo'n 25 steden heeft opgetreden. Rob heeft een ongekend vermogen om zelfs het rumoerigste publiek het zwijgen op te leggen met zijn intieme optredens, snelle humor en zijn boeiende podium uitstraling. De zanger heeft zichzelf als doel zoveel mogelijk mensen over de hele wereld te raken met zijn muziek. In het najaar doet Rob Moir een aantal intieme optredens in de Benelux.
23 september – Amsterdam  – KochxBos Gallery
17 december – Brussels – La Porte Noir
18 december – Nijmegen – Muziek Cafe NDRGRND
19 december – Amsterdam – Walls Art Gallery