Single 'Men Of The Women' als voorproefje van het album 'The Size Of The Night' dat op 9 maart uitkomt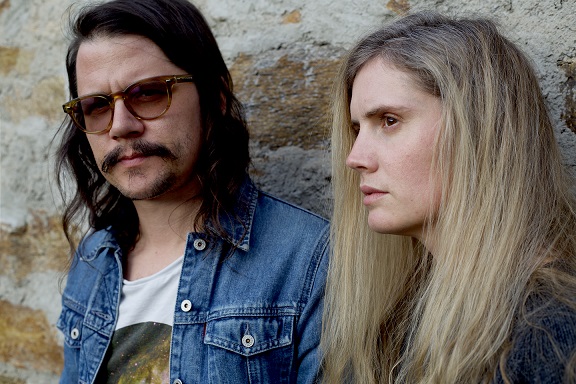 Afgelopen januari stond het Zwitserse duo Peter Kernel,  bekend om hun spitsvondige gevoel voor humor en hun gewiekste DIY-aanpak, op Eurosonic in de grote zaal van poppodium Vera. Daar lieten zij het aanwezige publiek voor het eerst kennis maken met tracks van het aanstaande album 'The Size Of The Night' dat op 9 maart uit komt via On The Camper Records/ Sonic Rendezvous (Nederland)/ Mandai (België).
'The Size Of The Night' is het vierde album van Peter Kernel. Barbara Lehnhoff en Aris Bassetti nemen je mee langs de meest donkere en mysterieuze delen van hun personages. De issues die hen onder ogen kwamen, zetten ze om in tien songs. 'The Size Of The Night' laat de zoektocht van Peter Kernel naar een nieuw bewustzijn horen. Sommige liedjes zijn bloedserieus, terwijl andere onwerkelijk aandoen. Babara en Aris berusten erin dat ze intens gevoelige mensen zijn maar tegelijkertijd ook de klootzak kunnen uithangen.
'Men Of The Women' is de tweede single van 'The Size Of The Night'. Aris vertelt: "In januari speelden we 'Men Of The Women' voor het eerst live in Confort Moderne in Poitiers, Frankrijk. We hebben het publiek gevraagd om de live show te filmen en ons het materiaal te sturen. Een oproep waar massaal gehoor aan werd gegeven. We zijn heel dankbaar voor de betrokkenheid van onze fans en hun enthousiasme om deel uit te maken van de videoshoot."  Bekijk de video  via Youtube of beluister de single via Spotify.
Om de release van 'The Size Of The Night' te vieren doet Peter Kernel in het voorjaar een tour door de Benelux.
Di. 20 maart |  Botanique, Brussel | Belgium release show
Wo. 21 maart |  De Güdde Wellen, Luxembourg
Do. 23 maart | Sugar Factory, Amsterdam, Dutch Album Release show
Vr. 24 maart |  N9, Eeklo, BE
Vr. 20 april |  Luxor, Arnhem, NL
Za. 21 april |  Insert Name Festival, Liège, BE met o.a The Guru Guru, Blacklisters (UK), Bison Bisou
Zo. 20 mei |  Transformerfestival, Muziekgieterij, Maastricht
De komende weken worden er meer data aangekondigd. Hou www.peterkernel.com en www.facebook.com/peterkernel in de gaten voor meer informatie.